Fishing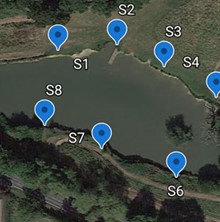 Fishing prices
| | |
| --- | --- |
| Dawn to Dusk | £15.00 per person |
| Dusk to Dawn | £15.00 per person |
| 24hr Session | £25.00 per person |
| Private Hire (24 hrs) | £200.00 (maximum 6 people per group) |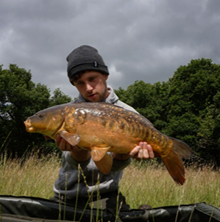 Booking
All Swims and sessions must be booked and paid for in advance. If you would like to check availability or want any further information on stock levels and fish that have been caught so far please contact the bailiff Digby Cooper directly on 07747041205.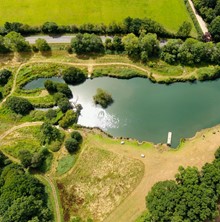 About our Lake
The fishing lake here at the resort has only been open for fishing for 12 months after historically only been used for children's kayaking sessions during the summer . It was stocked with specimen carp on 3 occasions over the last 25 yrs and they have just been left to grow! These are pretty wild carp so bring your A game !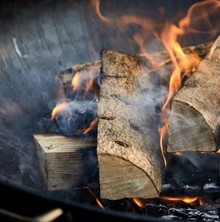 Fire Pit Hire
Fire pits can be hired for £20 per session. This price includes kindling wood and a large bag of seasoned wood. Extra bags of wood can be purchased for £10 per bag.
Everyone must register in the site office on arrival. Please call the  site warden if the office is empty.
Fishing car badges must be shown in the car window
Only MAC landing mats, slings, and nets to be used
Barbless and micro barb hooks only
Anglers must take ALL rubbish home including cigarette ends and tea bags
Two rod limits
Please respect fellow anglers
No heavy drinking, antisocial behaviour
No Bait boats allowed
No braided main line or line under 12lb
No sacks or retaining slings! Anyone caught with either on site will be asked to leave without a refund
Please use toilets provided not the bushes!
No fixed leads, safe rigs only
No tents or gazebos fishing bivvies brolly only
No Private BBQ s allowed . Alter fires and grills can booked from the centre for £20.00
No nuts. All particles to be well cooked and soaked
Parking only in designated area. All cars parked must show a fishing badge in the windscreen
No bent hooks/long shank nailers 360 etc
Please use Propolis or similar on ALL hook, scale, and fin damage
Please return fish to the water asap
Carp care spray must be used
Please leave toilets and shower clean and tidy
Do not leave rods unattended
Non fishing spouses £5 per 24hr
Coopers creek Bar and Grill onsite bistro can deliver to the lake call 01962 777860 to place your order Opening times : Thursday 9.30am – 4pm, Fri & Sat 9:30am – 9pm and Sunday 9:30am – 3pm
We operate a zero-tolerance policy, if you break any of these rules you will be asked to leave without a refund!
MAC Fishery accept no responsibility for any loss damage or injury however caused while on site
Love the joy of fishing? Enjoy fishing in the South Downs with a little more comfort
Our luxury, lakeside bivis are available from £60 per night. A great way to enjoy our lake which is stocked with a selection of different carp with some of our stock reaching 45lbs.